It's the last day of the Brauntex Performing Arts Theatre's space camp, "Janet's Astronaut Academy," and 11-year-old future astronaut JT Melton sits center stage on an important call with a space crew while he remains at Mission Control on Earth.
The success of the mission hinges on Melton's next instruction and any wrong move can spell disaster for the astronauts inside the space station.
With lives at stake, Melton repeats the directions so they can make the repairs and he saves the space travelers from imminent destruction.
Recent astronaut academy graduate Melton was one of the first visually impaired students that the astronaut training course's creator, Janet Ivey-Duensing, had the pleasure of teaching and it proved to be a life changing experience for all involved — in more ways than one.
"When I called Janet, I said, 'we have a blind student that wants to come, can you handle that?,'" Brauntex production coordinator Risa Miller said. "She said, 'absolutely, he's gonna teach us so much.'"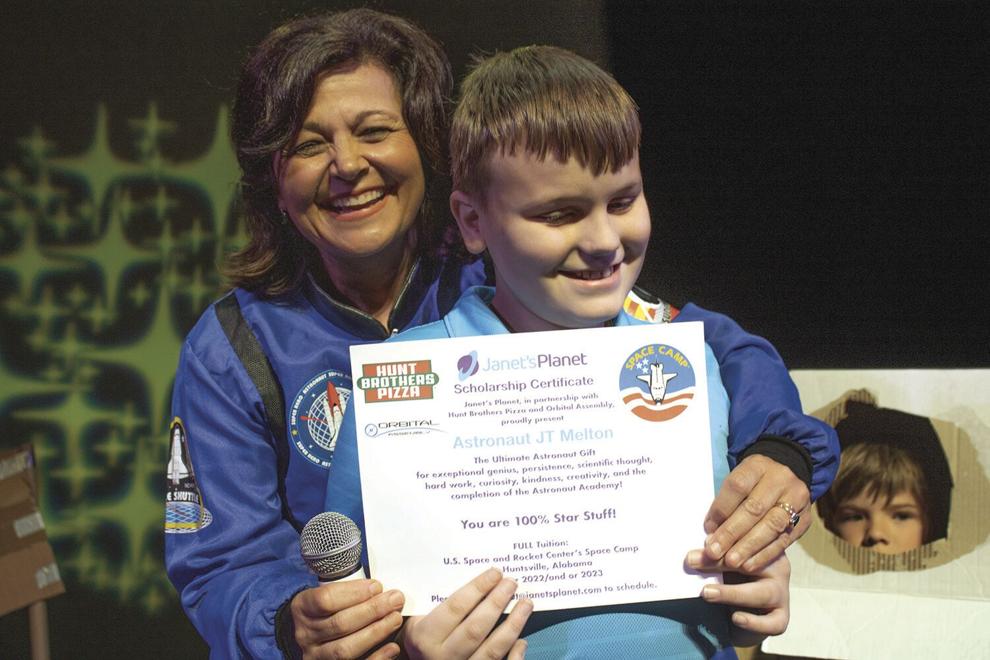 However, Melton's mother had reservations about sending him off to space camp and needed further reassurance the program's instructors would be able to accommodate him.
But before Melton was even officially enrolled, Ivey-Duensing had already called NASA to procure camp materials in Braille to help the boy visualize concepts like the surface of the moon. That seemed to seal the deal for Melton's mother.
"It was amazing," said Michelle Tschoepe, Melton's grandmother. "That's what convinced mom to let him come … (Janet) had never had a completely blind student before, and she said she would learn as much from him as what they could teach him."
Tschoepe, who gifted her grandson a spot at the Brauntex summer camp as a birthday present, was present to see Melton complete the program during the camp's graduation ceremony on Friday and got to listen to him make a speech for his teacher, which he read off a page in Braille.
"Ms Janet, you are the most amazing teacher in the world and you have taught me so much about others too," Melton said. "I couldn't be more thankful. You're 100% stardust everywhere you go and you will keep me awesome for many years. You are the most amazing astronaut I know and you are made of so much stardust that I will remember you forever."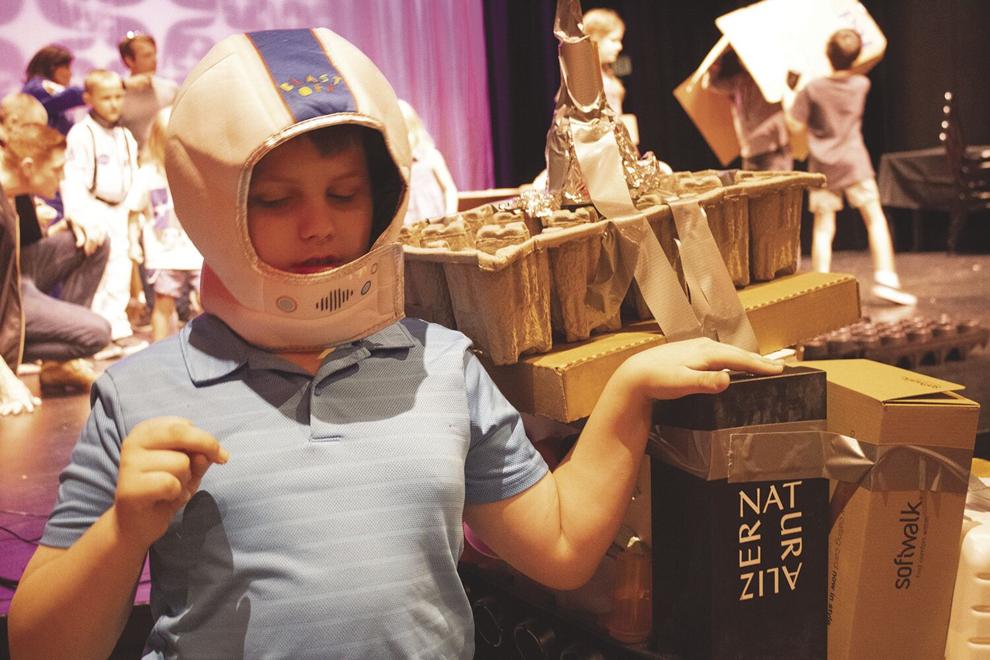 Little did Melton know he was about to be rewarded with the surprise of a lifetime.
Upon the conclusion of the ceremony, Ivey-Duensing had one last honor to bestow a lucky space cadet with — a trip to space camp in Huntsville, Alabama.
While there were several deserving candidates among the space trainees of Janet's Planet, Melton's hard work, kindness, curiosity and persistence displayed throughout his time at the academy awarded him the spot — and his fellow astronaut trainees thought so, too.
"You have communities like this that just rally around one another, all these kids support each other, encourage each other — it's amazing," Melton's grandmother said.
When the announcement was made Melton was in shock and could hardly believe that he was chosen to receive full tuition to attend the U.S. Space and Rocket Center's visually impaired space camp.
"I don't think it's real," Melton said. "I can't believe it — I can't believe that it's me, of all people. I would have been happy if it had gone to another kid, but it went to me. I can't believe that actually."
Along with the announcement, Ivey-Duensing made sure that Melton was treated to one more surprise — Melton won't have to wait long to make the trip and will be able to attend the camp as early as Sept. 18.
When asked if he had any advice to kids who might not think they can do something, Melton said, "Just dream big and one day you'll be where you want to be … Try to accomplish your goals as much as you can. If you don't put any effort into it and if you give up right away, you're never gonna get what you want."