The U.S.-based provider of lighting and grip equipment and studio spaces had a grand opening in Burnaby over the weekend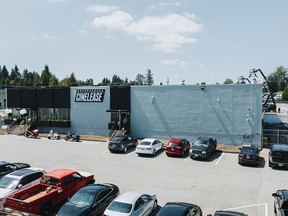 Article content
A leading U.S. supplier of lighting and grip equipment and studio space is setting up shop in the Hollywood North hot spot of Burnaby.
Article content
Cinelease, which operates in a dozen U.S. cities from Los Angeles to New York, hosted a grand opening of its new facility on Production Way this Saturday.
It's the first presence for Cinelease in B.C., which has been in operation since 1977. The company also plans to set up a rental warehouse in Greater Toronto this fall as it expands its footprint in Canada.
"Filmmakers have been asking for this for some time," said Vancouver branch manager Jeff O'Brien in a release. "The local filmmaking community is set to reach an all-time high, so the influx of high-quality inventory made available by this new Cinelease location will be a game changer."
Cinelease describes itself as one of the top lighting and grip providers for the television and film industry. On top of rental houses, the company — a subsidiary of Herc Rentals — has studios in six American cities including Brooklyn, Pittsburgh and Covington, Ga.
Article content
The company bills the Metro Vancouver opening as "the beginning of what the company plans to be a long, prosperous relationship with the Canadian filmmaking industry."
Among the products provided at the rental location is equipment by LRX lighting manufacturer, a Canadian company.
"LRX has contributed to innovation within the film industry for 35 years, with its expertly engineered robotic technology that makes sets safer," said David Dwight of LRX.
Before the Burnaby shop opened, Cinelease relied on shipping to support productions in Canada. It will now be able to offer a stable supply of up-to-date equipment on an ongoing basis.